Workshop
Need a quick repair? We'll always do our best to get your bike back on the trail/road/wherever you ride as soon as possible, because it's no fun being without a bike.
We would recommend that you get your bike serviced regularly, so those niggles don't turn into emergency repairs!
Our mechanics are all Cytec level 2 qualified and take special care over every bike they work on.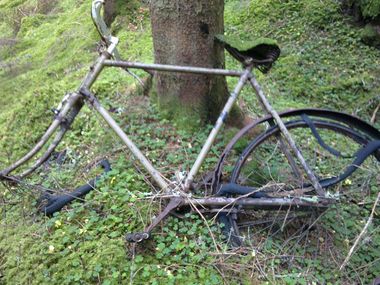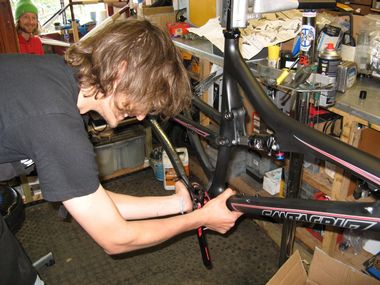 Take a look at our service menu, see what's best for you, the following are just a suggestion, every bike is different!
Service Menu
Safety Check:
£15
Designed for bikes which see only occasional, light use - a check-up for peace of mind!
Includes checking:
All bolts are done up to correct torque
Wheel alignment and tyre wear/pressure
Gear alignment and wear (incl chain wear)
Brake alignment and wear
Standard Service:
£35
Here we get a bit more 'in depth' - recommended for bikes which see average use.
As above plus:
Check and adjust gears
Check and adjust brakes
Check and adjust hubs/headset/bottom bracket
True wheels
Check & inflate tyres
Lubricate chain and gear mechanism
Full road test
Deluxe Service:
£75
The 'Full Monty' - for bikes which see heavy use, or just because you want to give your bike a special treat!
As for Standard Service plus:
Strip and regrease hubs, headset and bottom bracket.
Degrease and lube drivetrain
Clean and grease seatpost and quick release
Clean, check and lubricate fork stanchions
Full road test
Please note that all prices quoted on this are for labour only and do not include the cost of parts.
Repairs
Our labour charge is £30 per hour
We have a minimum charge of £5
Prices of some common repairs:
Fit inner tube: £5
Fit new chain: from £5
Bleed & adjust disc brake: £10 (front or rear)
Fit brake blocks & adjust brake: £10
True wheel: from £5 (depends on spoke fitting etc)
Adjust gear mechanism: from £5

Please note that prices quoted are for labour only and do not include the cost of parts.
Please ask for details of anything you don't see listed here - we'd be glad to help!

Suspension Fork servicing
Having your suspension forks and rear shock serviced is an essential part of looking after your bike.
We recommend a basic service (includes new seals and oil change) approximately every 6 months and at least once a year. This is also mandatory for your warranty.
Don't leave having your forks serviced untill you notice something wrong with them - if you do, it will probably become a repair situation. You really don't want to have that happen - it's expensive!
We currently service Rock Shox and Fox forks and rear shocks, and we carry a comprehensive selection of spares, so we can get your bike up and running as soon as possible.
We'll also do our best to help with other makes although this can take a bit longer...