CHRIS KING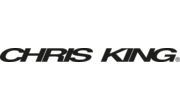 Headsets, hubs and bottom brackets - 100% made in Portland USA to the highest tolerances and standards.
Chris King designed the first sealed bearing headset in 1976. Thirty-four years later, the King headset remains a benchmark for quality. No other bicycle component can claim the precision, performance and absolute reliability of a Chris King headset.

There are currently no products from CHRIS KING in our site.
Please
Contact Us
for details of this range of products.
If you can't find the items you are looking for within our main site, you should be able to view the complete range from CHRIS KING by visiting their own website: (although please be aware that not all products may be available within the UK)
VISIT
CHRIS KING Website