EXPOSURE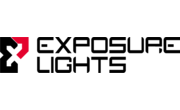 Exposure Lights make world renowned cycling lights that are designed and manufactured in the UK to exact standards. Innovative and patented designs make Exposure Lights the leading MTB and road cycling lights on the market.
We are huge fans of Exposure lights, every Bothy Bikes staff member uses them for off road riding and commuting. The lights are reliable, bright and super-friendly to use.
In store, there's always a wow-factor when we show a customer the lights and explain that the head-unit is all there is to the system - no external batteries or cables!
From the Flash and Flare commuting set to the preposterously bright Reflex, there's a light to suit everyone.
If you can't find the items you are looking for within our main site, you should be able to view the complete range from EXPOSURE by visiting their own website: (although please be aware that not all products may be available within the UK)
VISIT
EXPOSURE Website