HAPPY BOTTOM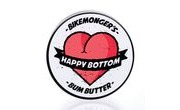 This is a locally produced vegan chamois cream/butter, with a difference: it's really incredibly effective, but also 100% natural
Endorsed and used by real pro cyclists:
Lee Cragie our Ladies National Fatbike champion loves the Happy Bottom Bum Butter.
Markus Stitz who is riding round the world single speed is begging for it ;-)
Lance Bumstrong the best fake cycling messiah we could find ( https://www.facebook.com/lance.bumstrong )
Karen Darke winner of a Gold Olympic medal in the Rio Olympics.
Unfortunately we don't have details for the HAPPY BOTTOM website, but if you
Contact Us
here at the shop, we'll gladly give you details of any products you're trying to find.